Knee pain is a common complaint that affects millions of people worldwide. It can be caused by various factors, including injuries, arthritis, overuse, or underlying medical conditions. Unfortunately, there are several myths and misconceptions surrounding knee pain and its treatment. In this article, we will address some of these common misconceptions and provide accurate information and explanations to help you better understand knee pain and its treatment options.
Myth 1: Knee Pain Only Affects Older People
Fact: While it's true that knee pain is more prevalent among older adults due to the natural wear and tear of the joints over time, it can affect people of all ages. In fact, knee pain can be caused by injuries, such as ligament tears or meniscus injuries, which can happen to individuals of any age. Additionally, young athletes and active individuals are also susceptible to knee pain, especially if they engage in high-impact sports or activities.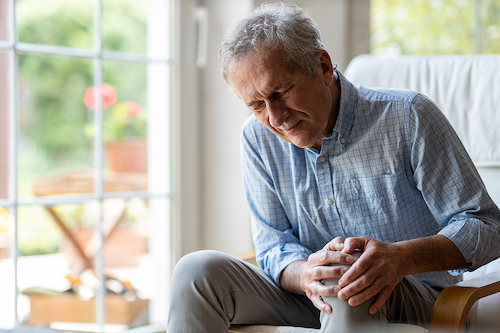 Myth 2: Rest Is the Best Treatment for Knee Pain
Fact: Rest can be helpful for some types of knee pain, especially if it's due to overuse or a minor strain. However, prolonged rest without appropriate rehabilitation can weaken the muscles surrounding the knee joint, making the problem worse. For many knee conditions, including osteoarthritis, physical therapy and exercises tailored to strengthen the muscles and improve joint stability are essential components of treatment.
Myth 3: Surgery Is the Only Solution for Knee Pain
Fact: Surgery is not always the first or only option for knee pain. Many knee conditions can be effectively managed with non-surgical treatments, such as physical therapy, medications, lifestyle modifications, and injections like corticosteroids or hyaluronic acid. Surgery is typically considered when conservative treatments have failed or when there is severe damage to the knee joint.
Myth 4: Knee Pain Is Always a Sign of Arthritis
Fact: While knee pain is a common symptom of arthritis, it can be caused by various other conditions and injuries. Some of these conditions include ligament injuries, meniscus tears, bursitis, tendinitis, and patellar tracking disorders. Proper diagnosis by a medical professional is essential to determine the underlying cause of knee pain accurately.
Myth 5: Overweight People Are More Prone to Knee Pain
Fact: While excess weight can increase the risk of developing knee pain, it's not the sole factor. People of all body types can experience knee pain, particularly if they engage in activities that put stress on the knee joints. Maintaining a healthy weight is advisable to reduce the risk of knee problems, but it's not the only factor to consider.
Myth 6: Knee Pain Is Inevitable with Aging
Fact: While the risk of knee pain does increase with age, it is not inevitable. There are several ways to maintain healthy knee joints throughout your life, including regular exercise, maintaining a healthy weight, and avoiding excessive strain on the knees. Taking care of your knee health through preventive measures can significantly reduce the risk of developing knee pain as you age.
Myth 7: Knee Pain Will Go Away on Its Own
Fact: While some minor knee pain may resolve on its own with rest and time, chronic or recurring knee pain should not be ignored. Ignoring persistent knee pain can lead to worsening of the underlying condition and potentially limit your mobility. It is essential to consult a healthcare professional for a proper diagnosis and treatment plan.
Myth 8: Knee Replacement Is the Only Option for Severe Knee Arthritis
Fact: While knee replacement surgery can provide excellent results for severe arthritis cases, it's not the only option. Before considering surgery, individuals with knee arthritis should explore conservative treatments like physical therapy, medications, and lifestyle modifications. These treatments can often provide significant relief and delay the need for surgery.
Myth 9: Pain Medications Are the Best Way to Manage Knee Pain
Fact: Pain medications can be effective for managing knee pain, but they should not be the only approach. Relying solely on pain medications can mask the underlying issue without addressing its cause. Combining medication with other treatments like physical therapy and lifestyle changes often yields better long-term results.
Myth 10: Knee Pain Is Not Treatable
Fact: Many causes of knee pain are treatable, and individuals can experience significant improvements in their quality of life with the right treatment plan. Whether it's through physical therapy, medication, injections, or surgical intervention, there are effective treatments available to address knee pain and its underlying causes.
Discover the Truth at KneeCares Clinic
At KNEECARES, we are dedicated to providing accurate information, expert care, and effective treatments for knee pain and related conditions. Our team of experienced healthcare professionals, led by Dr. Amit Meena, specializes in diagnosing and treating a wide range of knee issues.
If you or a loved one is suffering from knee pain, don't let myths and misconceptions hold you back. Contact us today to schedule a consultation and explore the best treatment options tailored to your specific needs.
Don't let knee pain limit your life. Trust KNEECARES to help you on your journey to pain-free living and improved knee health.
Call +91 8000301840 to book your consultation.
Disclaimer: This article is for informational purposes only and should not be considered medical advice. Always consult with a healthcare professional for proper diagnosis and treatment of knee pain and related conditions.